World's Best Dad Tumbler with Lid and Straw – the perfect gift for the world's greatest dad!
This sleek and durable tumbler is designed to keep your dad's favorite beverages at the perfect temperature, whether he's on the go or relaxing at home.
Shop Now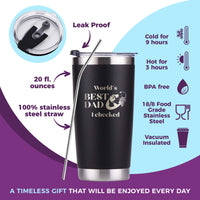 Testimonials
It is amazing!
Much beyond my expectations!
Truly a GREAT value!This set is perfect! All pieces are High Quality and are nicely packaged in a sturdy (easy to wrap) box-- perfect for anytime you want to make someone feel special!! I highly recommend this for anyone, either to gift to others or for oneself.

Benny O.
I bought this gift box for my wife knowing how much she likes her little luxuries. From her response, boy was I right. She absolutely loved how each item was both practical and indulgent at the same time.

Lisa S.
So happy to have found this item before settling on a different gift to send out to my list. Just to make sure, I had one sent to me . I usually don't wax poetic but this was special. The items included in my box appealed to all the senses, aromatic potpourri, beautiful ornaments, box of tasty tea, a scented candle, and my childhood favorite - candy cane.

Isaac P.